Volunteering in the Mountains
Date:
Tags:

"To anyone who is remotely interested in film, or even if you are only looking for a new, fun adventure, hop on a plane, jump on a train or bus and come work at DIFF. The opportunities there are endless!" says Oona Zyman, a 20-year-old student from Austria who volunteered at DIFF in both 2012 and 2013. Most people who have worked at DIFF before have the same advice for those who are thinking about volunteering at the Festival this year.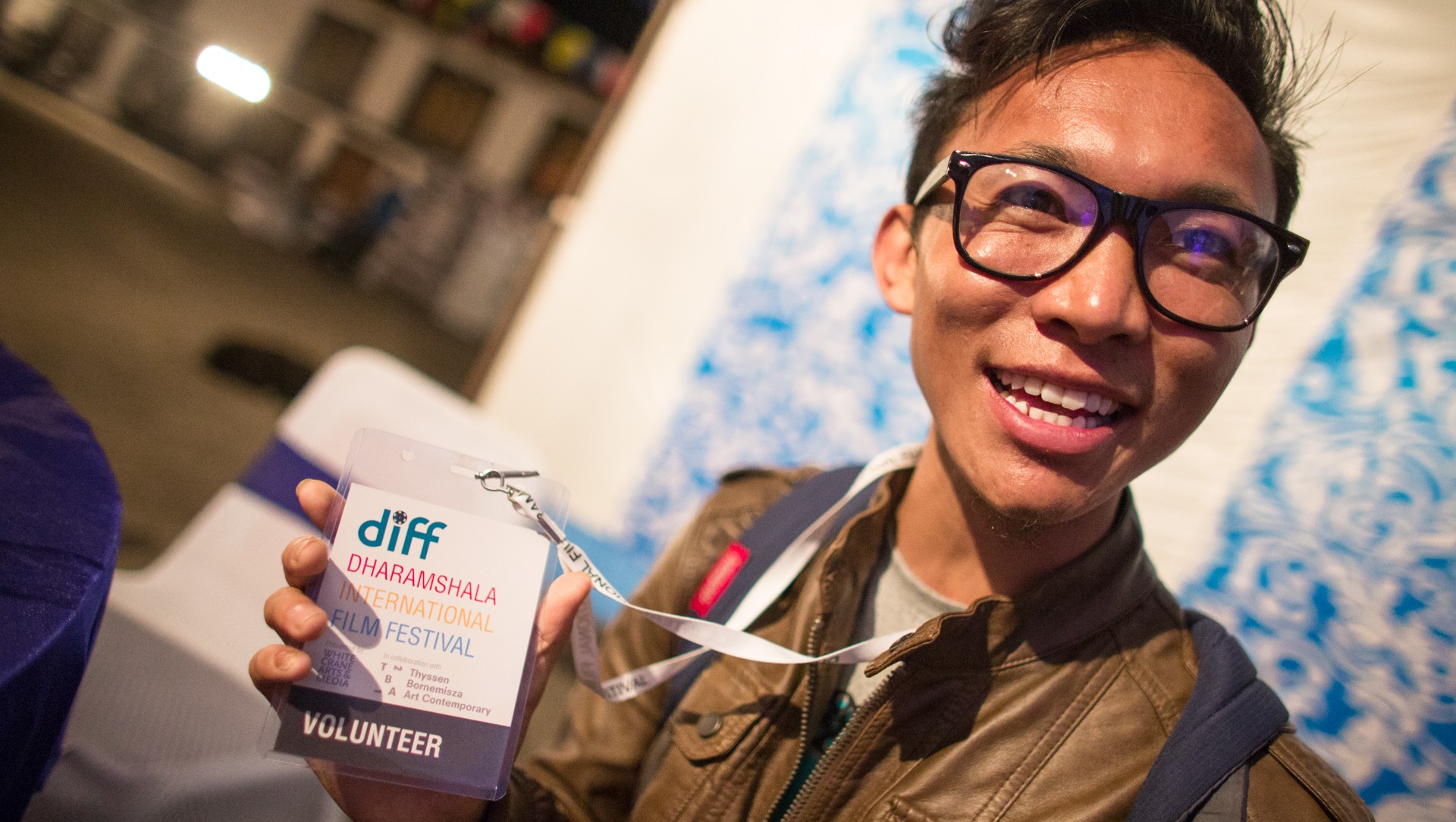 Tenzin Phuljung volunteer at DIFF 2013 and now interning at DIFF 2014
Organized by a small but experienced and hard-working team, DIFF offers volunteers the opportunity for hands-on experience working at an eclectic independent Festival. It is a unique space for young people to meet and network with filmmakers and with lovers of cinema from Dharamshala, India and the world.
A deep love for film, an urge to absorb new knowledge, a wish to travel to Dharamshala and meet like-minded people – these are just a few of the reasons volunteers have joined us at the Festival. But what stays with most of them are the friendships they make at DIFF. For Karam Grover, who volunteered in 2013, the sense of community surprised him. "For me personally the friends that I made were the best part. You get to meet some amazing people with different experiences," he says. And Oona echoes this feeling: "DIFF felt like my little family abroad. Very quickly the team grew very close, and we all enjoyed spending time together focusing on the project."
At an independent festival like ours, the scope for learning is enormous, because everyone chips in wherever and whenever they are needed. Volunteers at DIFF are assigned departments and projects, but often help out in other areas. Raghav Bhavsar, an engineer by training, left his job and packed his bags for Dharamshala in 2012, and volunteered again in 2013. He worked in the box office and merchandise departments, making friends even as he was selling tickets. Karam worked the Club House Venue and also handled arrangements for special guests. "The fact that young people like me were given responsibility was nice," he says.
Volunteering at DIFF is as challenging as it is exciting. Working in a democratic team means taking on responsibilities and investing time and energy to ensure a successful and inspiring festival. It also means being able to come together to overcome hurdles and to support each other when things get crazy. "Of course there were a lot of challenges to overcome, but we all stuck by and worked as a group, getting support from each other," says Oona.
But DIFF is also about being inspired by films and filmmakers, engaging in meaningful dialogue and immersing yourself in the magic of film. As Karam Grover says, "This is like no other film festival in India, it's about people who love film coming together to celebrate it!"
---
For more information on DIFF Volunteer Program check out http://diff.co.in/volunteer/