Oh The Places You Will Go: Film Fellows Then and Now
Date:
Tags:

One of the things we're extremely proud of at DIFF, is our Film Fellows programme. Started in 2014, the initiative hopes to encourage and develop filmmaking talent in the Himalayan regions of India. As part of the programme, participants attend the festival and its various events, which include screenings of the best contemporary independent cinema, and participating in masterclasses and workshops held by visiting filmmakers and industry professionals. The Film Fellows also receive one-on-one mentorship sessions with visiting filmmakers.
With the announcement of our incoming Film Fellows, we thought we might catch up with our graduates of sorts – so here's what Akee, Khanjan, and Munmun have been doing since their fellowship programme:
Akee has been working on a theatre production called 'Nerves'. He will be touring Spain, Portugal, and London with the show. Khanjan has been working on post production of his first feature film, The Bicycle. He has also started writing his second feature, Why The Blue Hill is Crying, and is planning to shoot a short, Pistol, this December. Munmun has travelling through Europe, India, and Nepal, making films along the way. From shooting wildlife films in Karnataka to working on a project for the Srishti School of Art in Bangalore, Munmun's journey as a filmmaker is only just getting started.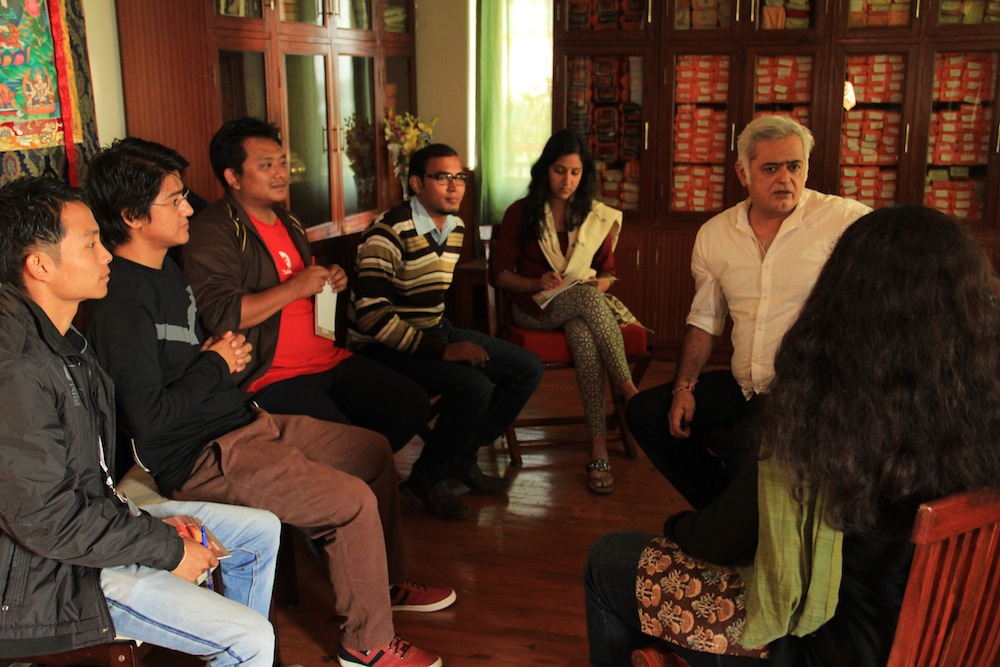 Something Borrowed: Advice from old Fellows to New Fellows 
We asked our 2014 Fellows if they had any messages for participants of the DIFF Film Fellows Programme 2015, and this is what they had to say:
Munmun: Watch as many films as possible and interact with the filmmakers present there. Speaking up in the mentorship sessions will help you gain a lot more confidence in your work and learn from the personal experiences of established independent filmmakers. 
Khanjan: haaa…haa..there is nothing like it.. just utilise your time fully.. enjoy movies and food..mentors are superb. Talk with them as much as possible.
Akee: This is changes your life as a filmmaker, and also as a person.
And now….the Film Fellows for DIFF 2015!
*Drumroll please*
Congratulations to Tribeny Rai from Sikkim, Srishti Lakhera and Udit Nijhawan from Uttrakhand, and Majid Imitiyaz and Karan Dhar from Jammu and Kashmir. Here's a little preview of their films:

Ek Tha Gaon by Srishti Lakhera:
The Garhwal Himalayas has over 1500 empty villages due to mass exodus. Set in an almost empty village, the filmmaker visits her ancestral land; one woman remains, her aunty Leela Devi. Through the story of her aunty's life and memories of the village, the film explores the aunty's deep rooted connection to the past. While she tries to understand rural to urban migration through her ancestral villages, the cultural/ecological loss attached to the death of a village comes forward.
 
                                         
Yathawaat by Tribeny Rai:
The patriarch of the house has just passed away and the mother is left with her three grown up daughters in the foreign land. While the whole family tries to get their father's job given to the youngest daughter, on the grounds of compensation, they are all going through their own personal crisis. Just when they think that their trying days are over, fate brings them right back to where they started.
Children of Conflict by Majid Imitiyaz:
Children of Conflict is based on a true story which reflects the ground reality of the children residing unfortunately in or around the different conflict regions of the Globe. This film answers how a child gets involved in the conflict willingly or unwillingly and how it affects one's future? 
Kaansutra by Karan Dhar:
The story takes us on a journey with Bharat Soda as he ties his head-gear and sets off in search of work. In his conspicuous red turban, Bharat roams about in the by-lanes of Delhi. The film tries to depict joie de vivre spirit in Soda's life.

                                    

Hidden Skin by Udit Nijhawan:
The film revolves around a performance by two sub-body Butoh performers. Hidden Skin is meant to confront fear, hope, ego and other underlying emotions. The dogma about feelings that penetrates in our society is getting more and more pronounced with time. Everybody's supposed to be just happy and joyful, or just not feel anything. But without feeling, without noticing what you're feeling and actually confronting it- it's like not living.
We're so excited to welcome our Film Fellows to DIFF 2015! To join them for four days of indie movie magic, register here.