A Little Cinema, A Little Nirvana
Date:
Tags:

Siddharth Dasgupta heads to the Dharamshala International Film Festival. And returns just a little bit enchanted.

---
From the heart of Mcleodganj's Main Square, you begin trudging up a road that soars and winds its way along hill and dale. Your path's barely wide enough to let through a car, let alone a crowd of people, so you make your way in single file, taking great care to swerve out of the way of any wild rickshaw drivers doing their best Lewis Hamilton impression on the way down. It's just about a 3-kilometre walk to your intended destination, but takes longer than you might imagine. Not only do your city-worn lungs have to come to terms with this most miraculous of entities, fresh air, but you're also forced to stop and take in stunning vistas of the town and its valleys below at regular intervals. The scattered chatter amongst the random bunch of travellers, hippies, arty folk, and students making their way up the hill together by happenstance is centred around one common uniting factor – films. And soon enough, we've reached our Mecca. The Tibetan Institute of Performing Arts (TIPA) looms beautiful ahead of us, its large central building flanked by one main screening stage, a smaller screening room, food stalls of cheerful flavor, prayer flags of resplendent colour, and sunsets of barely masked brilliance. Make no mistake: while Cannes may be glitzier, Sundance may be cooler, and Berlin may be wiser, there is no prettier film festival in the world than the Dharamshala International Film Festival (DIFF).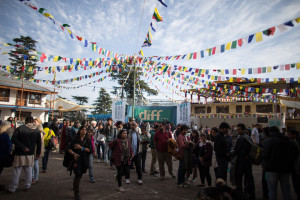 Over the next three days, I, together with a steadily growing bunch of film aficionados, will come to treat TIPA as home, and make several trips each day from here to the Festival's other screening location, Club House in the heart of town, and vice-versa. It's a heady mix of film, Tibetan culture, north Indian winter, and globally individual points of view at play here, and I intend to drink all of it in. The Festival launches on October 30 with Aankhon Dekhi, a film written and directed by Hindi film and theatre stalwart Rajat Kapoor. A whimsical portrayal of an extended family scenario in old Delhi, the film constructs itself between fairytale-like probabilities and deeply profound virtues in creating a simple, beautiful work of cinema that pervades the audience's collective consciousness. Sanjay Mishra's Bauji is an eccentric, dilapidated character for the ages, while Kapoor's deft handling of interloping, Altman-esque dialogue sequences borders on the genius. It's a combination that has the crowd lapping it all up, their laughter and pensive silences true testament to the medium's impact. In other words, just the sort of wonderfully engaging film to begin a festival with.
The next evening, and via a six degrees of separation sort of connection, I run into Sana Rizvi. Ms. Rizvi is managing this entire carnival of treats, entrusted to run things by Ritu Sarin (Festival Director) and Tenzing Sonam (Co-Director), the founding members of White Crane Arts & Media Trust, a body passionate about promoting liberal arts and creativity in the Himalayan world. I meet Sana in the main office of the central building at TIPA, a location which is the quasi nerve centre of the entire Festival. There is a palpable buzz everywhere, with DIFF's rag-tag, motley bunch of volunteers and interns spreading their own special dose of energy onto the entire affair. "We started putting this thing together barely six months ago," Sana informs me. "Everyone pitches in, everyone does their bit, and I guess everyone's in this because they have a true, fierce love for cinema." It's this DIY ethic and sense of joy that somehow pervades every element of the celebration, while placing DIFF in a curiously enjoyable league all its own. Sana confirms the impression. "I've barely slept these past few weeks. And sometimes it seems like a mess. But somehow, it all seems to come together, it's the people that make this festival. There's no sense of hierarchy, everyone's in this thing together." It's a sentiment summed up perfectly by Rajat Kapoor himself. "I've been to many festivals," he avers. "But the spirit behind the organisation of DIFF is absolutely unique. I have never been to a festival that runs its engine on the passion of everyone that comes in contact with it. Over 60 volunteers made a festival in Dharamshala possible – a town without a single cinema screen. They have already done three years – and they are good for the next thirty I believe. Bravo!"
Over the course of the next 3 days, I come to share Mr. Kapoor's thoughts. As counter-productive as it might seem, DIFF isn't purely about films. It's also about doing a little Himalayan jig with a specially collected group of dancers and musicians, it's also about tucking into delicious Himachali dham, it's also about congregating around a bonfire and sharing stories well into the night, it's also about striking up global connections in the most random of places. And except for a few rare occasions, you come across very little of the uppity, pretentious behaviour that many of the larger festivals display with abandon. There's no point running around it. The atmosphere at DIFF can best be summed up by one word – innocence. As I run through the line-up of films, I realise that the agenda here isn't to present the latest and most provocative fare, though there are those to be found as well. It's more about "bringing independent cinema to the mountains", whilst presiding over an ethic that pays special importance to the marginalised and the repressed, much like the Tibetans now being forced to live in a Tibet not their own.
The films are a mixed bag, to be sure. For every bitingly poignant Eat Sleep Die, Citylights, and Papusza, there is a middling Call it Slut and Mani's Dying. An early crowd favourite is Only Lovers Left Alive, Jim Jarmusch's reliably debauched take on vampires and love torn asunder. There is a selection of animated shorts curated by Gitanjali Rao which unfortunately and inadvertently turns out to be too women-oriented for a general viewing public, even though it contains stunners in the form of Ines Sedan's El Canto and L'Homme Qui Dort. The selection of curated short films from Indian filmmakers is an equally mixed bag, with the good scorching themselves into people's minds. Tamaash is a particular standout, Satyanshu and Devanshu Singh painting a portrait of innocence, fear, repentance, and freedom through the eyes of two Kashmiri children within 32 memorable minutes. It's the documentaries and films focusing on the aftermath of war that sting sharpest at DIFF. Return to Homs and The Square cast fierce, raging mirrors on the many manifestation of the Arab Spring in Syria and Egypt respectively, while Hany Abu-Assad's Omar is a look at conflict, love, betrayal, and despair through a decidedly Palestinian prism. Bringing Tibet Home is a clear crowd-pleaser, Tenzin Choklay's film documenting Tibetan artist Tenzing Rigdol's fraught, painstaking endeavor in stealing 30 tonnes of native Tibetan soil and placing it onto Indian soil, back in Dharamshala, as a way of bringing a distant, fabled country back home to a generation doomed never to set foot on it.
As this is my first journey to Dharamshala, films aren't the only things on my mind. Spiritual encounters, emotional nourishment, and nourishment of a more tangible kind turn out to be equal passengers in this voyage of discovery. Amidst deeply meaningful conversations with complete strangers and impromptu bonding sessions with fellow travellers, I discover Mcleodganj to be an absolute Paradise for foodies. The town is blessed with a café and restaurant culture that thrives on charm and breathes on originality. One of my favourites turns out to Crepes & Pancakes Hut on Jogibara Road, an impossibly cozy café modeled on a traditional Tibetan mountain cabin. It seats no more than ten, it displays more books than patrons, it runs on the commands of a trio of giggly Tibetan sisters, and it serves up a delicious array of the joys that lend it its name. Another stand-out is the Common Ground Café, just a hop 'n a skip away from the town's Main Square, but a world away from its bustle. At Common Ground, the communal style tables compel you to get into conversations with strangers, and before you know it, friendships have been forged over meals of scrumptious scrambled eggs and wholesome Tibetan bread. In terms of variety, the Moonlight Espresso Café down Temple Road is as proficient at Carrot Cakes and Pancakes, as it is at a wonderfully robust Himachali Thali. For pure Tibetan fare, my go-to address becomes Tibet Kitchen just off the Main Square, its massively generous helpings of Tibetan Thukpa, Thenthuk, and Momos a perfect rejoinder to the night's icy weather, complemented of course, by the McLeod staple of Ginger, Lemon & Honey Chai. But the address destined to linger the longest is Café Illiterati, a bohemian haunt way down Jogibara, on the road to Dharamshala. As Illiterati proffers, 'there is no good explanation for what is going on here' – mountains of books lie stacked to the roofs and on quaint shelves, interspersed by stylish wooden tables, chairs, and divans, all whilst offering stunning views of the mountains and the Kangra Valley, together with a family-sized bowl of Muesli with fresh fruit and yoghurt.
It's now November 2, and I return just in time for the Festival's closing film. Liar's Dice is a gripping tale of a woman's search for her lost husband that strangely begins to lose its way as the lead characters begin to abandon theirs. While Geetanjali Thapa's incendiary performance leaves you in no doubt as to why she won the National Award for this very role, and little Manya Gupta is a joyful scene-stealer, Nawazuddin Siddique's enactment tends to get a bit grating with time, and Liar's Dice leaves you feeling just a touch vacuous. Never mind though. This is DIFF, and this is the closing night. We're soon back out in TIPA's central courtyard discussing the past three days, before moving on to the Bhagsu Hotel for a closing party filled with much bonhomie. Amidst raised glasses and raised spirits, I ponder on the predicament at hand: this is a Festival that deserves to be seen, heard, and felt by thousands more. But in doing so, would its charm and sense of innocence be lost to the world? I ponder on my own small contribution to this imagined injustice by way of writing this article. But then I chance upon some of the Festival's ideals and begin to read them aloud.
'To bring high quality, independent films along with their filmmakers from around the world to Dharamshala. To create a truly meaningful, non-partisan cultural platform that engages and involves all communities that inhabit the area — Indians, Tibetan refugees, and expatriates. To promote mutual understanding, foster harmony, and offer exposure to contemporary forms of creative expression.' As I read, I tend to nod along and decide that the Festival has achieved all of these, and more. I feel relieved. I feel sated. This is Dharamshala. This is Mcleodganj. This is DIFF. And the hills are alive with the sound of movies.