DIFF and the Community
Date:
Tags: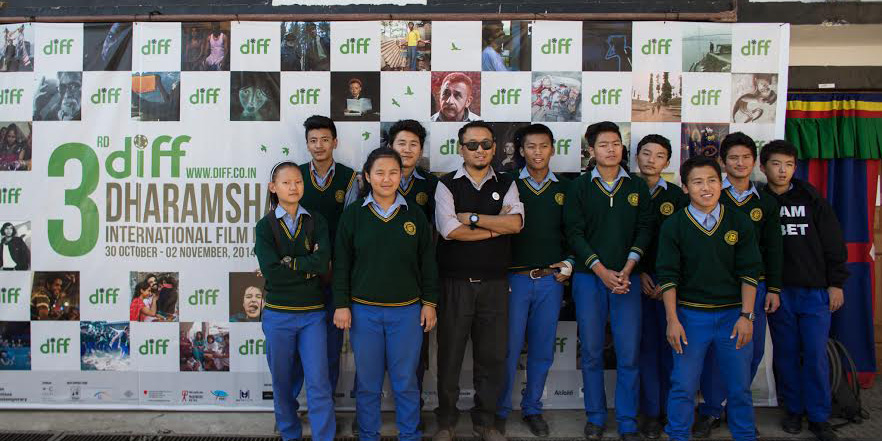 As anyone who's spent time in Dharamshala knows, the town crams a massively diverse population into a pretty small municipality—Gaddi villagers, Tibetan refugees, Paharis, Kashmiris, Nepalis, Punjabis, migrant workers, ex-pats—occupied in government jobs, education, labour, tourism, homemaking, NGOs, the arts, or simply enjoying retirement. The prospect of engaging with such a range of people can be overwhelming but this year we are dipping our toes a little deeper into the pool with a range of community outreach projects.
Community Screenings: October will see two screenings of Ritu Sarin and Tenzing Sonam's documentary about a local Gaddi taxi driver, When Hari Got Married (2012)—the first for Gaddi villagers from Dharamkot, Heini and Raked, the second for 200 inmates at the district jail in lower Dharamshala. Each screening will be followed by a Q&A session with the film's protagonist, Haridesh.
Special Screening: This year, DIFF is arranging a special screening of the short live-action film Dost, directed by Piyush Kanga from Bilaspur, Himachal Pradesh. The invited audience will include students from Harmony Through Education—a thriving school for children and young adults with special educational needs—together with students from local mainstream schools.
Film Appreciation Competition: 20 students from four very different institutions are participating in this event, during which they will be introduced to the concept of active and critical engagement with cinema. The competition will include a screening of Varun Tandon's short Syaahi (2016) and a workshop with film writer Aseem Chhabra. The contestants have been drawn from Tong-Len hostel for the children of migrant workers, Gamru Village School for children from disadvantaged backgrounds, Wood Whistlers International School, and Upper TCV. The winners will be presented with their awards on DIFF's opening night.
Schools and Colleges: DIFF is proud to have invited students from a range of local schools to this year's children's programme. We will also welcome students from several local colleges to a screening of Pushpa Rawat's significant new documentary Mod.
Jagori: DIFF is currently working with Jagori Rural Charitable Trust to plan large-scale community screenings in the Kangra Valley area of Himachal Pradesh.