DIFF 2016 BIDS FAREWELL
Date:
Tags: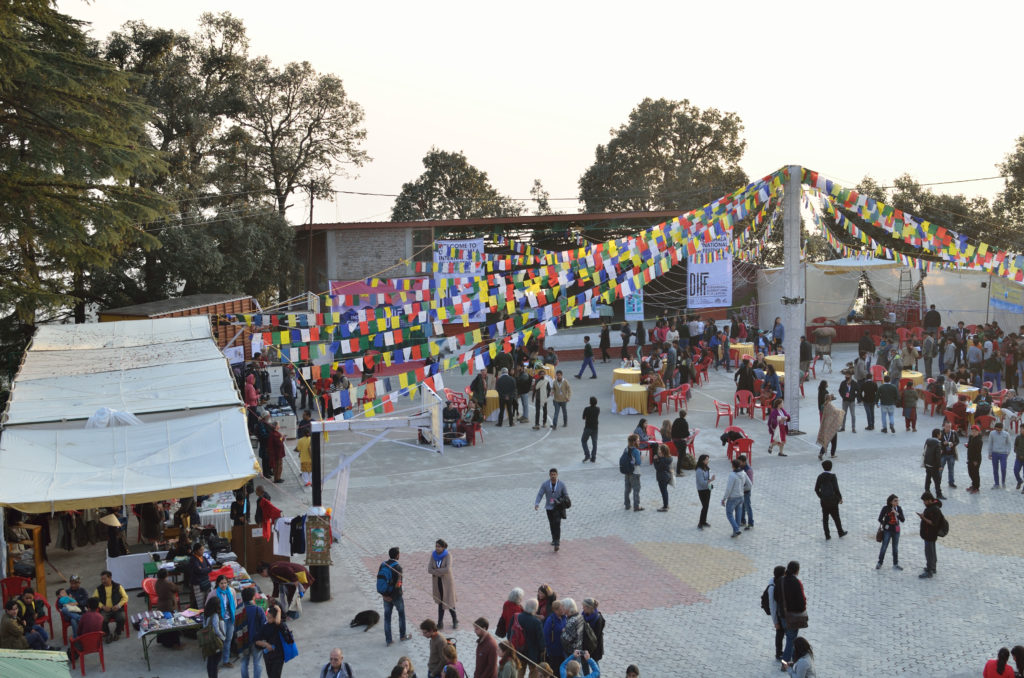 It's getting colder here in Dharamshala. The Dhauladhars, majestic as ever but utterly barren now, are awaiting the first of the snows. Here at DIFF Central, things are winding down. Most of our team members have left and those few heady days of madness and movies are already fading into memory.
We approached DIFF 2016 with some trepidation. After hosting the past four editions at the Tibetan Institute of Performing Arts (TIPA) and the Club House in McLeod Ganj, we were forced to shift venue due to TIPA being rebuilt. The Tibetan Children's Village (TCV) – with its two auditoriums – was the only alternative but the problem was that it was not within walking distance of McLeod Ganj. How would this impact our audience participation? What would it mean for the logistics of setting up the festival in a functioning school? Everything was an unknown and it wasn't until we actually began to set up the event that we clearly understood the implications of these new challenges.
In the event, our festival team and our amazing group of volunteers pulled it together and it may not be an overstatement to say that DIFF 2016 was perhaps, the most successful ever! Take a bow, Raman, Natasha, Prateek, Phurbu, Matthew, Eline, Denis, Jyotsna, Varun, Sai Krishna, Giulia, Chokey, Thea and Mila! And let's not forget the volunteers: a more diverse, hardworking and friendly team would be difficult to find anywhere. Come again and spread the word to your friends!
DIFF 2016 had more filmmakers attend than ever before – 35 at last count – who came from across India and the world. We were graced by the presence of iconic director Saeed Mirza who participated in an engrossing conversation with film writer Aseem Chhabra. He graciously said, "I, as a person, have walked away from films and DIFF has re-engaged me with cinema. The selection of the films is incredible and the Dharmshala's charm adds to it. I have never seen a friendlier bunch of volunteers at any festival."
Legendary actor Naseeruddin Shah kept the audience enthralled in a freewheeling conversation with film critic Rajeev Masand. His comment – "I am not a great fan of film festivals and I seldom attend them as I find them too busy and there is too much hot air all around.  This is truly the first film festival I have ever been to which I enjoyed.  This festival truly is a celebration of cinema rather than a market place where you are trying to hustle. I would love to be back here in future" – means a lot to us.
Other filmmakers were equally gracious in their feedback. Singapore filmmaker Boo Junfeng, whose brilliant prison drama, Apprentice, was one of the standouts of the festival, noted: "I had a wonderful time at the festival. There was so much warmth from everyone – from the staff and volunteers to the audiences and filmmakers. I haven't felt such a sense of community at a film festival in a long while."
We have to single out for special mention the audience who came from all over India and indeed, the world. What a bunch of committed, sympathetic and engaged film lovers! They braved the bitter cold of the late evening shows, gave standing ovations to filmmakers, asked intelligent questions and were great company in every way. A big thanks to all of you! Our total count of attendees at the screenings, conversations, panel discussions, masterclass and video installations, stands at 6322, a record-breaking number for us.
As always, we are beholden to our many partners and supporters, without whose continued goodwill and involvement the festival would be dead in its tracks. A special thanks to our long-term collaborators, Thyssen-Bornemisza Art Contemporary and the Government of Himachal Pradesh for being with us every year since the beginning, and to NFDC and the Henirich Böll Foundation for stepping up their involvement. This year, we are also grateful to our Creative Partner, Weiden+Kennedy, who were responsible for DIFF's new look. And how can we not mention the wonderful staff and students of TCV who opened their doors with warmth and hospitality to the hordes of strangers who invaded their campus for a few days. A big thank you!
With DIFF 2016 successfully behind us, our attention is now firmly on DIFF 2017. If you were a part of DIFF 2016, do make plans to return – we promise to present another great slate of films and filmmakers. And if you've never been, don't miss out again! Until next year, it's goodbye from the mountains…