OUTREACH
Film Fellows
Submissions to the Film Fellows Programme 2017 are now closed.
Feature filmmaker Shubhashish Bhutiani; Bina Paul, Film Editor and Artistic Director of the International Film Festival of Kerala; and Tibetan-American documentary filmmaker, Tenzin Tsetan Choklay are now reviewing our applications. The list of selected fellows will be announced soon.
Dharamshala International Film Festival (DIFF)is going to host the fourth edition of the DIFF Film Fellows programme.
This initiative aims to encourage and develop film-making talent in the Himalayan regions of India by inviting five young up-and-coming filmmakers to attend DIFF and participate in events including screenings of the best of contemporary independent cinema, and masterclasses and workshops conducted by industry professionals, with whom they will also have the opportunity to engage in one-to-one mentor-ship sessions.
THE FELLOWS 2016
Tourangbam Andy
Born in Imphal, Manipur, Tournangbam Andy began shooting experimental shorts this year. The first, We, was screened at Manipur's Festival of Cinema and Kharam Loya Film Festival. The second, Kangrdroom, was listed among the top 15 shorts at Brahmaputra Valley Film Festival.
Vishal Langthasa
Vishal Langthasa was born in Haflong, a hill station in Assam where, as a child, he would 'borrow' his brother's handycam and shoot footage around the neighborhood. Vishal holds an MA in media and cultural studies from Tata Institute of Social Sciences, Mumbai, and this year started up his own YouTube channel, Chugli TV.
Bendang Walling
Bendang Walling has been involved in the performing arts since his school days in Nagaland. After graduating from the National School of Drama, New Delhi, in 2012, he returned to his home state and founded Hill Theatre, for which he has directed eight productions. Having this year completed his debut short film, Blissful, Bengdang now dreams of exploring the hills of Nagaland to unearth its rich treasures of myth and folklore.
Abhijeet Phartiyal
Abhijeet Phartiyal was born and raised in Almora, Uttarakhand, and studied English Literature at the University of Delhi. He recently completed his first short film. His influences include Jean-Luc Godard, Chantal Akerman, Gurvinder Singh and Pushpa Rawat.
Mehak Jamal
Mehak Jamal grew up in Srinagar before studying for her BA in film at Srishti Institute of Art, Design and Technology in Bangalore. Currently based in Mumbai, she is working on a freelance project with Srishti Films, commissioned by the National Bank for Agriculture and Rural Development.

Community
As anyone who's spent time in Dharamshala knows, the town crams a massively diverse population into a pretty small municipality—Gaddi villagers, Tibetan refugees, Paharis, Kashmiris, Nepalis, Punjabis, migrant workers, ex-pats—occupied in an equally diverse range of professions. The prospect of engaging with such an array of communities can be overwhelming but, having initiated a range of outreach projects last year, we are proud to develop and expand them for DIFF 2017.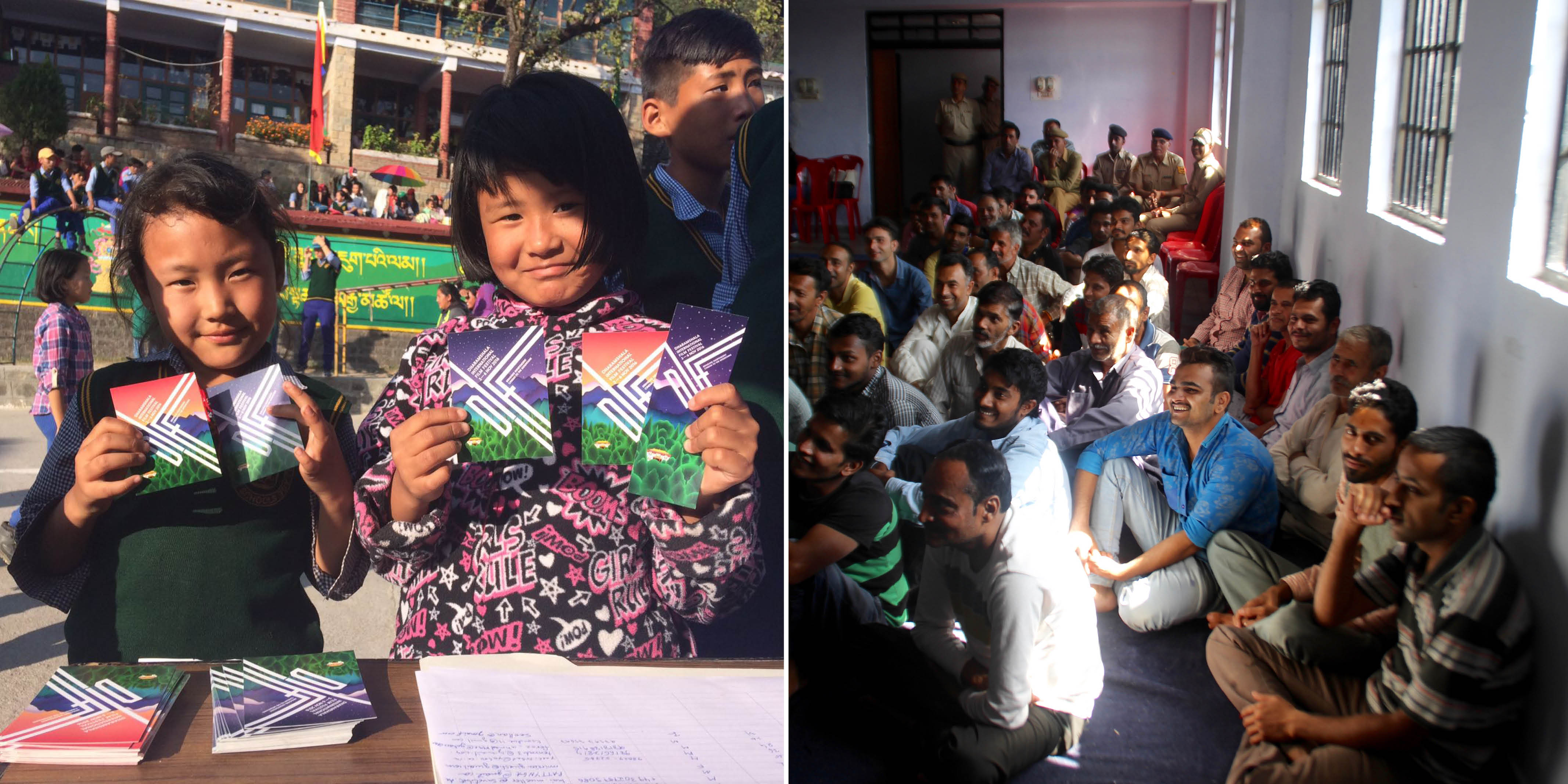 Community Screenings
This September and October, DIFF is partnering with Jagori Rural Charitable Trust to show a selection of films, followed by discussions, in local schools, colleges, villages and at Dharamshala District Jail.
Special Screening
Building on last year's Special Screening, around 60 students from two schools for students with special educational needs and six mainstream schools will be invited to DIFF's opening day to watch a short film, interact in drama and art activities and share lunch together.
Film Appreciation Competition
Our Schools' Film Appreciation competition is also expanding this year, with around 40 students from six schools being introduced to the concept of active and critical engagement with cinema. The competition will include outreach workshops in October, a screening, discussion and assignment at Upper TCV on November 1, and an awards presentation on DIFF 2017's opening night.
Children's and Students' Programmes
As well as reaching out to local audiences, DIFF aims to draw them in to the festival, and this year will invite around ten local schools to attend our Children's Programme and a further ten local colleges to attend an adults' screening.