Film Fellows Programme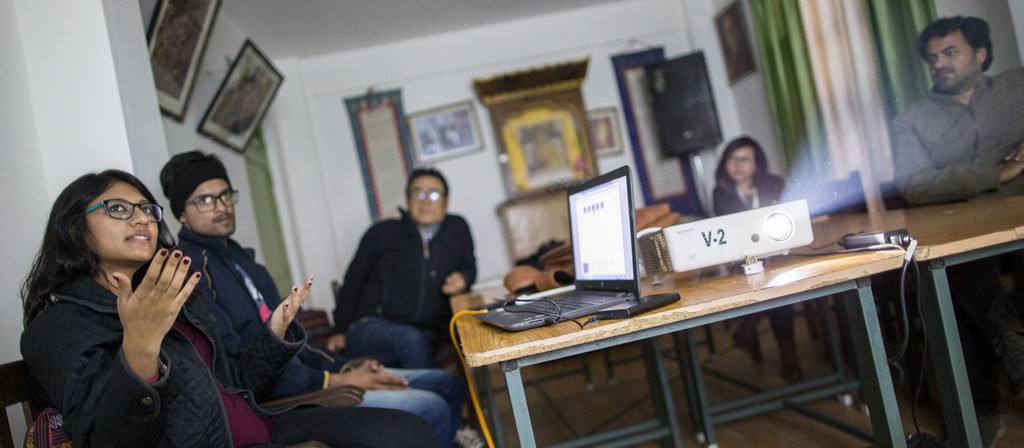 The Dharamshala Film Festival Film Fellows initiative, which saw its inception in 2014, aims to encourage and develop filmmaking talent in the Indian Himalayan regions by inviting five young up-and-coming filmmakers to attend DIFF and participate in events including screenings of the best of contemporary independent cinema, and masterclasses and workshops conducted by industry professionals, with whom they will also have the opportunity to engage in one-to-one mentorship sessions.
This year, the programme will focus specifically on filmmakers from Himachal Pradesh.
Each applicant must send a completed application form and a link to a short film she or he has directed, and be available to attend the entire fellowship programme in Dharamshala, Himachal Pradesh. Five winning filmmakers will then be selected and provided with food and lodging for the duration of the programme.
Rules and Regulations
The DIFF Film Fellows programme accepts applications from aspiring Film Directors.

Applicants must be in age group of 18 to 45.
Applicants must be holders of Bonafide Himachali certificates
Applicants must send a completed entry form and a link to a short film directed by them to festivalcoordinator@diff.co.in
Films submitted must be shorter than 20 minutes in duration. They can be an excerpt from a longer film (do not send the full film)
Films can be submitted as a link on Vimeo, YouTube etc.
Films that are not in English or Hindi must be subtitled.
Films can be in any genre: fiction, documentary, experimental, or animation.
A panel of industry professionals will judge the entries and their decision will be final.
The deadline for sending applications is 24th September 2018
Successful applicants will be notified on 1st October 2018
Link to entry form: DIFF-FILM-FELLOWS-ENTRY-FORM-2018
Submit complete application to: festivalcoordinator@diff.co.in
The Fellows 2017
Siddharth Chauhan (Shimla, Himachal Pradesh) – He began his career as an independent filmmaker with Secret Corridor Pictures, a production house that aims to make films with local talent in Shimla. His short films include Boys Don't Wear Nailpolish! (2015) and Papa (2015), which have travelled to festivals as far afield as Europe, Sarajevo, Indonesia, New Zealand and China. Siddharth is currently writing his first feature-length screenplay.
Sazzad Hussain (Guwahati, Assam) – Sazzad's passion for photography dates back to the time he discovered his grandfather's old camera as a child. He studied at the SRM film school, Thane. He also trained as an actor at Anupam Kher's Actor Prepares in Mumbai, and enjoys participating in street plays and theatre. He has made a number of short films of which Choice (2016), won him the Media Blitz prize in 2017.
Renuka Soraisam (Imphal, Manipur) – Renuka also works as a graphic designer and event manager. A graduate in advertising from the Sophia College for women in Mumbai, she pursued her master's in mass communication at Manipur University. She is also associated with the Nachom Art Foundation, which she believes has given her a better understanding of contemporary expression.
Jenifer Datta (Tura, Meghalaya) – Jenifer has been making films since 2014. She has written, directed, edited four short films, the latest of which, Thank You For Watching (2017) is currently competing at festivals. She is currently penning her first feature-length film.
Piyush Kanga (Bilaspur in Himachal Pradesh) – An actor / director based in Shimla, Piyush has written and directed a number of short films, including Dost (2016) — which was also screened as part of the community outreach programme at DIFF in 2016 — and Stuck-ed (2017).