Film Fellows Programme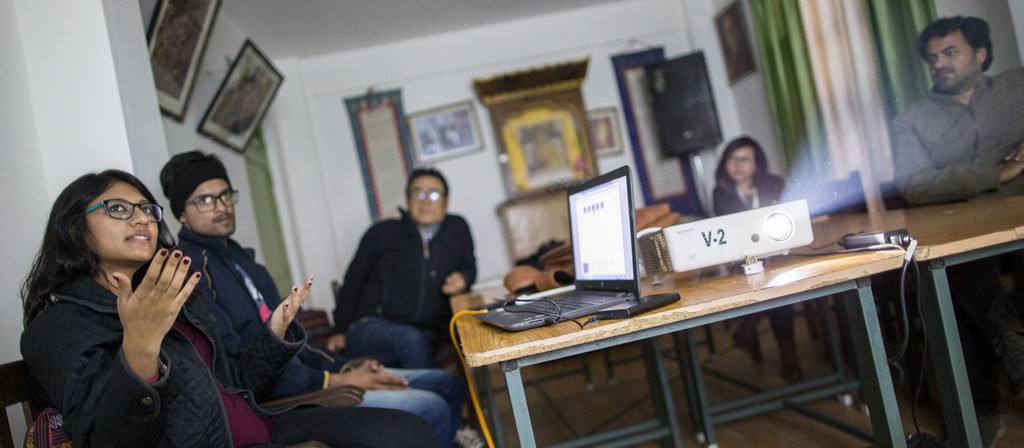 The DIFF Film Fellows initiative, which saw its inception in 2014, aims to encourage and develop filmmaking talent in the Indian Himalayan regions by inviting five young up-and-coming filmmakers to attend DIFF and participate in events including screenings of the best of contemporary independent cinema, and masterclasses and workshops conducted by industry professionals, with whom they will also have the opportunity to engage in one-to-one mentorship sessions.
This year, the programme will focus specifically on filmmakers from Himachal Pradesh.
Each applicant must send a completed application form and a link to a short film she or he has directed, and be available to attend the entire fellowship programme in Dharamshala, Himachal Pradesh. Five winning filmmakers will then be selected and provided with food and lodging for the duration of the programme.
Rules and Regulations
The DIFF Film Fellows programme accepts applications from aspiring Film Directors.

Applicants must be in age group of 18 to 45.
Applicants must be holders of Bonafide Himachali certificates
Applicants must send a completed entry form and a link to a short film directed by them to festivalcoordinator@diff.co.in
Films submitted must be shorter than 20 minutes in duration. They can be an excerpt from a longer film (do not send the full film)
Films can be submitted as a link on Vimeo, YouTube etc.
Films that are not in English or Hindi must be subtitled.
Films can be in any genre: fiction, documentary, experimental, or animation.
A panel of industry professionals will judge the entries and their decision will be final.
The deadline for sending applications was 24th September 2018
The Fellows 2018
Aman Sharma (Shimla) – Inspired by the Great Himalayas, and everything it encompasses, Aman has dedicated his craft to capturing the beauty of nature. He explores similar themes in his work and his filmography is highly reflective of the landscape in his immediate surroundings as seen in his film, Valley of Living Gods.
Kesang Thakur (Kullu District) – Kesang's background in research work highly informs her cinematic sensibilities. "I would like to bring together disparate concepts like honesty, love and poetry," she says and hopes to incorporate the same into her preferred medium of documentary cinema. A medium she'd like to use to visually represent her own community.
Mrinalini Singha (Shimla District) – A film student at a design school, Mrinalini has worked on several projects inspired from her several interests that span film history, poetry, gender and culture.
Rahat Mahajan (Nurpur) – Rahat made his first short film back in 2006 and has since gone on to be a part of  projects ranging from short films to feature narratives and documentaries to music videos. His work and inspiration borrow from ancient Indian aesthetical systems.
Vaasu Soni (Kullu) – Vaasu's road to filmmaking is one of passion to profession. Coming from an engineering background, he's built an impressive portfolio in several aspects of cinema like composing, editing, directing and lighting. Through the programme, he hopes to further fine-tune his skills and expand his knowledge about everything film.