An Interview with Meenu Gaur and Farjad Nabi
Date:
Tags:

Meenu Gaur has an extensive body of work on mainstream media including Indian Mass Media & the Politics of Change, Routledge, 2011. Farjad Nabi has broached a wide array of subjects in his films. He has had a long association with print media and produced radio documentaries for BBC Urdu Service. Together they co-wrote and directed Zinda Bhaag, Pakistan's first entry to the Oscars in 50 years, showing at DIFF 2014.
---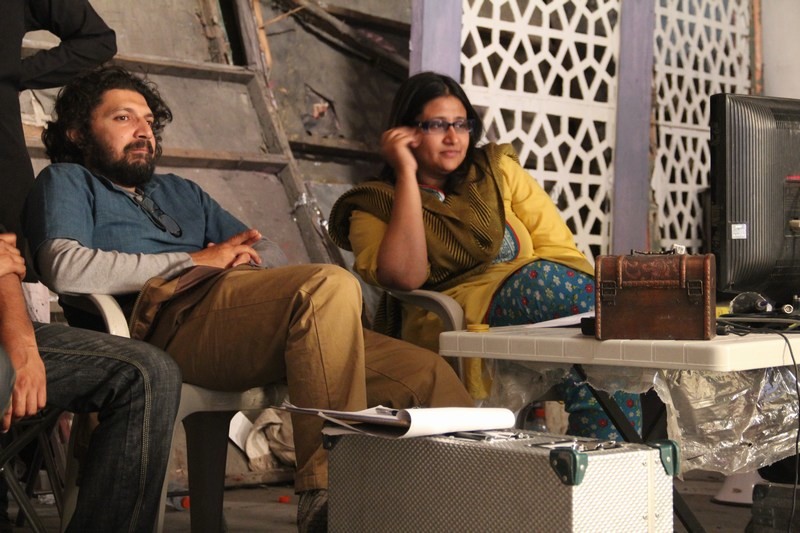 Meenu Gaur and Farjad Nabi
Even though Zinda Bhaag is filled with humour, it touches serious issues. How and why did you think of tackling a serious subject like illegal immigration, which can end in human tragedy, as we have seen so often in the news, into a comedy?
Meenu: I don't think we per se 'decided' to make a comedy. We decided to make a film about a very 'everyday' mohalla and people. When you have that approach, the everyday humour one encounters automatically becomes part of the film. Also, you have to be Lahori to know the culture of what is called the 'juggat' (repartee) in Lahore to get that aspect of what you've called 'comedy' completely. It's the Lahori style of conversation.Our inspiration was the typical Lahori attitude which cannot resist a one liner in the most dire of moments.
Farjad: I think there is a limitation with 'genre' and all such categorisation when you set out to tell a story that is 'true' in as much as you have observed or experienced it. Life is a complex mix of comedy, black comedy, tragedy, fantasy, melodrama and bit of all of that is in the film. Though the film is set against the theme of illegal immigration, Zinda Bhaag addresses many other things, one of which is how young men deal with notions of 'success' and 'failure'.
The characters you have created in your film all want to leave Pakistan, and see the West as the only way to a better future. Where do you stand on this issue? Do you sympathise with your characters, or do you believe there is a way out that does not involve running away?
Farjad: The desperation to leave for greener pastures is true for all countries. Young people want to transform their lives overnight and look for shortcuts. This story is of every other family in South Asia and beyond.This issue in the film takes its cue from a South Asian Initiative called 'Let's Talk Men' with two features and two documentaries from South Asia. The issues related to masculinity are more or less the same across South Asia.
Meenu: If we look at the statistics then the largest number of illegal immigrants are from countries like China and India which have burgeoning economies. We knew when we started writing this story that to look at it from the lens of 'poverty' will not suffice. Somehow failure, success, honour, entitlement, masculinity seemed to give us a better and more empathetic understanding. The film is essentially about grappling with failure in times when all of us seemed gripped in the tentacles of some crazy idea of 'success'. A sense of entitlement and being successful has taken on mammoth proportions. The film is about trying to live a life of dignity and honour and failing. The young people we met in the course of the film believed that all legitimate ways of building a successful and honourable life were closed to them. So to answer your question our film is not really about taking a stand on the 'issue' but more about understanding the seemingly impossible choices facing young people from a particular class in countries such as India and Pakistan.
In an otherwise realistic depiction of the narrative, Zinda Bhaag makes a few digressions by taking some tongue-in-cheek nods in the direction of Bollywood films by incorporating fantasy dance sequences. What were your reasons for doing this?
Farjad: Meenu & I are great fans of the 70s /80s Lollywood and even Bollywood which in terms of form and stories is quite similar. As you would know the Pakistani film industry aka 'Lollywood' has a very sudden collapse in the 90s. We wanted through Zinda Bhaag to pay a tribute to that industry. So the colour tones, flashback, sound design, a very particular use of the film song were all meant to reference our nostalgia of a certain era of Lollywood. Even our film poster is a hand painted one by the last surviving poster artist of Lollywood – S.Iqbal.
Meenu: We wanted to the songs not just as backdrops to a montage sequence but as part of the story-telling. We wanted situational songs, as used to be the case in the older films where songs were a space for expressing that which cannot be expressed in dialogue, that which needs a poetic expression. Situations of romance, mocking the rich & powerful, suffering, existential angst, a spiritual or moral dilemma, desires, fantasy, aspirations. So in a sense Zinda Bhaag uses film songs in its most traditional form. Bagga, our music director took this a step further and created the music through live instruments so as to evoke film music from a bygone era. So all these really amazing veteran violin players, saxophone players, cello players, brass bands came together for our music. This was probably the fun-est bit of making this film.
Farjad: This was a deliberate decision on our part. It was not a compulsion. There is a tendency amongst the cultural elite to have a knee-jerk rejection to this song-dance South Asian film form and view it as inferior to the 'Hollywood' or European film form. I also think it masks a class bias of low culture vs high culture – suggesting that films with songs provide mindless entertainment for the 'masses' as opposed to the more 'mindful' art cinema of the educated 'gentry/elite'. Whether a film has songs or doesn't is a lazy way to judge the impact or truthfulness of its content. Filmmakers should feel free to choose a form that feels right for their story-telling. Moreover, even our traditional stories have always been told through songs for centuries. Heer Ranjha, Sassi Punnu, this is all theatre in verse. It's very much a part of our folk tradition.
Zinda Bhaag made it to the long list of the Oscars for Best Foreign-Language Film. What impact do you think that will have on your careers as filmmakers, and on Pakistani cinema in general?
Farjad: When the news came the first bit of wisdom we received was from Naseer saab who said its great news but don't dwell on it too much! I think it's an achievement that a cast and crew, the majority of whom were making their first feature film have gotten this far. The film has been released in Pakistan and ran for 8 weeks, was theatrically released in the USA and UAE. We got such a wonderful reception from people from all over, critics, we got fantastic reviews … so it was all much more than we had expected. Being a completely independent project the biggest challenge for us was to complete the film and just get a chance to show it to people.
Why did you decide to cast Naseeruddin Shah in your film, and was this in an effort to reach out to Indian audiences?
Farjad: We had some clear ideas about the casting. One was the decision to cast non-actors for most of the parts including Khaldi, Taambi and Chitta. We knew we wanted audiences to relate to the boys intimately, like they would to their nephews, cousins, friends. In the auditions we were looking for certain personalities rather than actors as such. Therefore the decision to cast non-actors had been one of our earliest ones. The exception was Puhlwan, the character played by Naseeruddin Shah. This character was larger than life and essentially tells parables within the main narrative. We knew it had to be played by someone who could hold audience attention in the film. It's a difficult role. It was a character that was endearing but has shades of a villain. Someone who was feared but never really used force. Again, like villains in older films- the 'shareef badmaash' or a principled villain. Also his character embodies street wisdom or the moral universe inhabited by our young characters in the film.
What is the state of Pakistani independent cinema and how do you see it in relation to the burgeoning indie film scene in India?
Farjad: Well, as I mentioned Pakistani cinema all but collapsed in the 1990s. People are now talking about a revival of cinema in Pakistan now but these are still early years. But it's an exciting time because there isn't that much market pressure and industry is not as saturated either. A film like Zinda Bhaag which is not exactly mainstream had an excellent run in the cinemas. Also, interestingly a majority of the indie filmmakers are women! For the indie scene in both countries it is most critical that films get released in both the countries. Right now even the indie films in India are having a tough time getting decent distribution.
And lastly, what's next for you in filmmaking terms?
Meenu: Farjad and I are working on two scripts at the moment and hope to be shooting one in December. We also have a number of feature length documentaries in process. We've done shooting for one of the doucmentaries which is called The Ghost of Maula Jutt, primarily about the now collapsed Lollywood film industry. Then there is a very interesting feature length documentary on Karachi which is in the production stage.
---
Check out the entire DIFF 2014 programme at http://diff.co.in/filmsa-z/, and register now to immerse yourself in the magic of cinema in the shadow of the majestic Dhauladhars http://diff.co.in/registration/