Day 3: Voices from the margins, animation and an overwhelming turnout
Date:
Tags: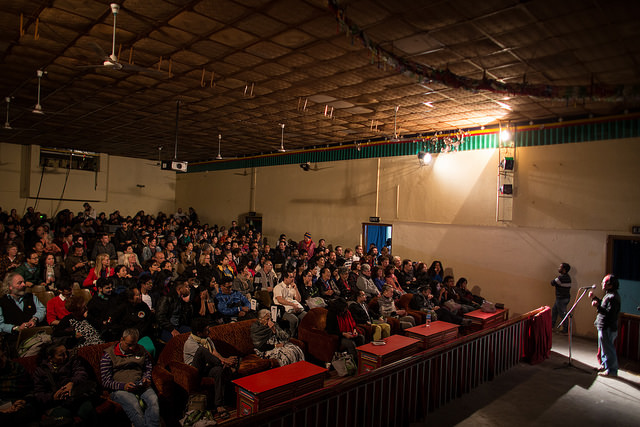 The third day of the festival witnessed an immense response for Tenzin Tsetan Choklay's film – a depiction of a massive art project – Bringing Tibet Home; the film played in the evening slot at the Tibetan Institute of Performing Arts. While a number of local audience members spoke of being 'emotionally overwhelmed' with the film and its larger message, critics, viewers and film lovers who were in Dharamshala for the festival also very highly of the film's general quality. One of the stated aims of DIFF has been to highlight films and filmmakers that exist on the margins, and introduce their concerns, anxieties in insecurities to mainstream, more public discourse. The screening of Bringing Tibet Home is an emphatic expression of this ambition.
DIFF's commitment to diverse types of cinema, filmmaking techniques and voices was also made evident by the incredibly successful series of animation films that were hosted and curated by Gitanjali Rao, exclusively for this edition of the festival. The atmosphere at the festival is conducive to comfortable and open exchange of ideas; this makes it possible for various different types of film to exist together, within the same programme. Reinforcing this quality of openness, visiting director Hansal Mehta, whose film City Lights was screened in the evening, said of the festival, 'It is an intimate event with no extraneous pressures of selling, commerce or convincing sales agents. Instead, people get together here only for the love of cinema.'
The final slot for the day witnessed the World Premiere of director Q's work-in-progress, his film on recently deceased radical writer and poet, Nabarun Bhattacharya, Nabarun; the film was screened at the Club House and was met with unprecedented response and enthusiasm from a capacity crowd. The provocative film generated an extremely involving, lengthy and engrossing discussion that went on for close to an hour. This was also a feature of the Masterclass with Rajat Kapoor, hosted by Aseem Chhabra – audience members, students and film lovers alike, interacted with Mr. Kapoor about Aankhon Dekhi, his film that opened the festival. This is the spirit of inquiry and conversation that DIFF hopes to imbue its proceedings with, in times to come.