An Asian Chronicle
Date:
Tags:

 Siddharth Dasgupta's impressions of DIFF 2015…
One of the most enriching aspects of this Festival, one I'd chanced upon in 2014, is the nourishing buffet of short films, documentaries and children's films that forms a natural complement to the selection of full-length features on offer. At this year's edition, DIFF has a strong showing of Tibet and Asia-focussed fare, much of it in the shorter form. Three of these are being presented in one package, and both individually as well as in a collective, they offer a strange and somewhat sublime window into the lives and desires of a few remarkable people.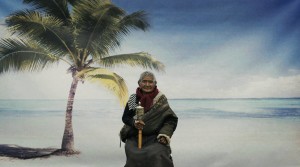 First up is Hu Wei's Butter Lamp. While a Tibetan film by a Chinese director might seem like fertile ground for propaganda, the young Wei instead offers us a wry, poetic mirror on the aspirations, infiltrations and longings of a community used to living in perpetual limbo. Using one Tibetan village, one cinematic device, and one single prop (a series of vast, changing vinyl backdrops), the filmmaker weaves profound poetry. His quasi-documentary consists of an anonymous travelling photographer in an unnamed Tibetan village taking portraits of various indigenous families for seemingly run-of-the-mill family photo-shoots. It is up to the subjects to choose their background scenarios, and it is their choices that offer stark windows into their ambitions, dreams, corruptions, repentances, and lasting sorrows. Some choose Disneyland, some choose the Great Wall, some choose the Forbidden City before gradually crowding out Chairman Mao's portrait, while some choose nondescript designer backgrounds. It's a subtle game of revelations, never more stark than when one old grandmother is transfixed by her choice of background – the Potala Palace. As the feature closes out with one grief-stricken Tibetan man handing the photographer a butter lamp to be placed in his mother's memory on the photographer's route back home through Potala, questions of memory, authenticity, identity, technology, and the erosion of Tibetan culture linger as one haunting veil.
Next comes Bhutanese director Dechen Roder's Lo Sum Choe Sum. During a break on a bus journey, a young, nervous Bhutanese woman – Lhamo – climbs a mountain peak for reasons undisclosed and almost misses her bus. During a subsequent police search, she is arrested on the bus and sentenced to three years in prison. Taking its title from a traditional Buddhist meditation practice during which nuns and monks are meant to renounce the world for a 'Three Years, Three Month, Retreat', the short feature takes an alternative interpretation of this tradition via Lhamo's prison sentence and exile from society. Cities merge into vast rural backgrounds, silences merge into society's harsh gaze and consequent gossip, solitude meets stricture, and Lhamo's silence meets the crushing revelations behind her actions on that fateful day. While I'm moved by the stark Bhutanese landscapes, the reflective mirror on what actually amounts to spiritual practice, and this sad window into a society usually revered for its happiness and prosperity, I can sense an emotional vacuum in the storytelling which leaves me somewhat unfulfilled. But Roder's is a brave new voice, and I leave her film with a mental note to watch out for more of her.
The final offering in this 'trilogy' leaves me with no mixed emotions though. Tashi and the Monk is a simple yet poignant delight from start to finish. The 'Monk' in the title is Lobsang Phuntsok, and Jhamtse Gatsal – his remote community in the foothills of the northeast-Indian Himalayas where orphaned children are rescued and rehabilitated – forms the documentary's stunning backdrop. Lobsang finds himself constantly conflicted by his need to accept the sanctuary's financial limitations and by his burning guilt at turning away even a single child due to this fact. When Tashi, a rebellious five-year old whose only recourse against a broken childhood is to lash out, quite literally, enters Jhamtse Gatsal, Lobsang finds the significance of his calling impacted in the severest of ways. Will Lobsang's oceans of compassion and his training under the guidance of the Dalai Lama help him understand and overcome the child's troubled existence? Will Tashi herself open up to the community's warmth and begin her healing process? There are no simple answers to these questions and the documentary revels in the journeys, in its quieter spaces. As with the best documentary filmmakers, Andrew Hinton and Johnny Burke keep themselves anonymous, at the most posing a few faceless questions, allowing their camera to become an unobtrusive viewer among the community's eighty-five children. They spent three months shooting the footage, and they've captured the children in their element – being studious, being curious, being stupid, being adorable – and Tashi finds herself in the thick of things. There are some remarkable mini-relationships at play, like the one she shares with an older Indian boy entrusted with being her elder brother and looking after her. But it is Lobsang with whom she shares her most intricate connection, struggling to bestow him with the father status she had long since discarded with her own alcoholic parent. Whether a study on compassion, an analysis of childhood alienation or simply a documentation of the extraordinary Jhamtse Gatsal and its founder, Tashi and the Monk is a feature destined to linger… and as I find myself on the streets of McLeod Ganj after the screening, I can't help but examine the children I come across on the streets with a keener eye… hopefully, with a gentler eye.
---
Siddharth Dasgupta is a novelist. He also writes on travel for some of the world's most acclaimed travel bibles. Having attended DIFF in 2014, he'd made a silent vow to make this an annual affair, circumstances and horizons willing. He can be found on www.facebook.com/leavesfromabook and traced through https://twitter.com/siddha3th